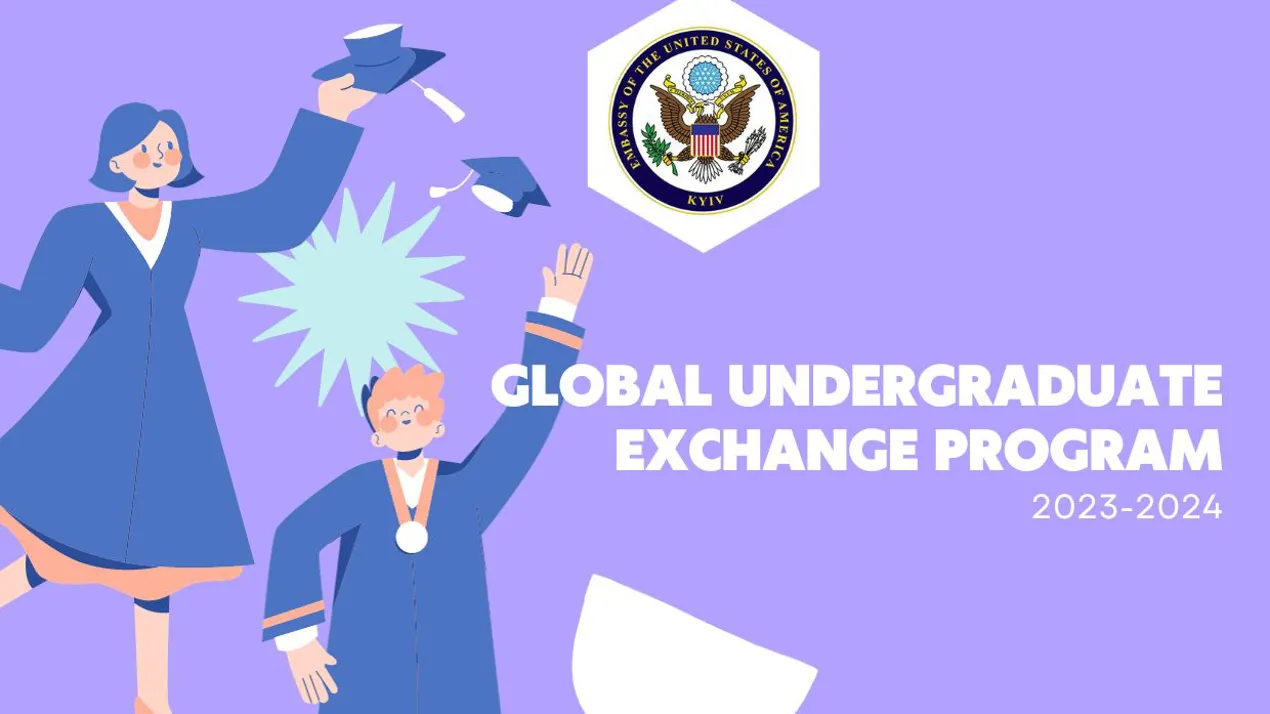 понеділок, 6 листопада 2023 р.
The Global Undergraduate Exchange Program (Global UGRAD), sponsored by the U.S. Department of State's Bureau of Educational and Cultural Affairs, is supported by the people of the United States. This international educational and cultural exchange program brings future leaders to the United States to experience the U.S. educational system, enhance their knowledge and skills, and explore U.S. culture and values. It also provides students with the opportunity to educate Americans about other cultures and traditions. The Global Undergraduate Exchange Program is administered through the joint efforts of the U.S. Department of State's Bureau of Educational and Cultural Affairs, U.S. Embassies abroad, and World Learning.
The Bureau of Educational and Cultural Affairs strives to ensure its efforts reflect the diversity of U.S. society and societies abroad. The Bureau seeks and encourages the involvement of people from traditionally underrepresented audiences in all its grants, programs, and other activities, workforce, and workplace. Opportunities are open to people regardless of race, color, national origin, sex, age, religion, geographic location, socioeconomic status, disability, sexual orientation, or gender identity. The Bureau is committed to fairness, equity, and inclusion.
Programs Description
The U.S. Department of State and World Learning are pleased to announce the open competition for the Global UGRAD Program for undergraduate students for the 2024-2025 academic year. Participants will be selected for academic excellence, leadership potential, community involvement, written and spoken English fluency, motivation, and flexibility to be an exchange student.
Participants will study for one academic semester at accredited four-year U.S. institutions of higher education, receive intensive English instruction if needed, and engage in community service, professional development workshops, and cultural enrichment activities. Global UGRAD participants cannot choose their host institution and will live on campus with U.S. peers. Candidates should be highly motivated and demonstrate leadership through academic work, community involvement, and extracurricular activities.
The Global UGRAD scholarship provides one academic semester of undergraduate, non-degree study in the United States in all fields. Interested applicants in medicine, nursing, veterinary medicine, pharmacology, or other clinical fields of study should be aware that direct patient care, including animal care, is not permitted. Therefore, academic coursework and/or program activities at participating U.S. institutions may be limited.
In addition to coursework in their fields of study, U.S. studies, and electives, Global UGRAD finalists will engage in several non-academic activities, including:
Pre-Departure Orientation: all Global UGRAD finalists must attend a pre-departure orientation (PDO) before departure to the United States.
Community Service: Global UGRAD finalists engage with their U.S. communities by completing required community service.
Financial Support
The Global UGRAD Program covers finalists' travel to/from the U.S., university tuition, room and board, health insurance, required books, and a monthly stipend for incidental expenses.
Eligibility Requirements
Global UGRAD applicants will be considered regardless of race, color, religion, ethnicity, or gender.  Persons with disabilities are strongly encouraged to apply. All Global UGRAD Program participants must be committed to returning to Ukraine after completing the program.
The Global UGRAD Program is a merit-based competition open to anyone WHO IS:
A citizen of Ukraine currently residing and studying in Ukraine as a full-time University student in the 1-2 year of bachelor's degree program, academic year 2023-24;
Over 18 years of age by the start date of their Program in the United States;
Enrolled as a full-time undergraduate student in good academic standing at any university in Ukraine, public or private;
Demonstrate leadership potential through academic work, community involvement, and extracurricular activities;
Has a good command of written and spoken English (English language skills should be strong enough to study in the U.S. university);
Able to begin studies in the United States in September 2024 or January 2025 (selected participants may not defer to a later date);
Upon program completion, return to Ukraine and continue studying for at least one academic year at home university in Ukraine;
Eligible to receive and maintain the U.S. student exchange visa (J-1) required for the program.
Individuals in the following circumstances ARE NOT ELIGIBLE for the Global UGRAD Program:
U.S. citizens and permanent residents of the United States;
Individuals currently studying, residing, or working outside Ukraine;
Graduate students and students of 3rd and 4th year of bachelor's degree programs;
Local employees of the U.S. missions abroad who work for the U.S. Department of State and/or the U.S. Agency for International Development (USAID); employees are also ineligible for one year following the termination of employment;
Immediate family members (i.e., spouses and children) of U.S. Department of State and USAID employees; family members are also ineligible for one year following the termination of employment;
Current World Learning employees and their immediate family members.
Student Responsibility
Individuals participating in the Global UGRAD Program are required to uphold the academic standards of the host institution and abide by all program terms and conditions. Failure to maintain academic standards or meet the goals of the program may result in the participants' dismissal from the program.
Students will be placed at colleges and universities throughout the United States. Students will not be able to select their own placement. Students will take courses in their fields of study and the number of credits earned during these courses is included in the obligatory 12 credits per semester. Additional credits are contingent upon the U.S. host institution and are subject to World Learning's approval. Participants must also take one 3-credit U.S. studies course to enhance their understanding of the United States. Participants will live in campus housing facilities with American peers and must participate in twenty hours of community service. Students will not be eligible to transfer into degree programs in the U.S. All participants must return to their home country immediately after completing their program.
Application Instructions
Only electronic applications are accepted for the 2024-2025 Global UGRAD Program. Applicants should log on to the following site to gain access to the online application system. Applicants will be able to complete their entire application online and upload letters of recommendation and all required documents.
Please read all instructions and information carefully before completing the application, and review all fields before making any submission online. The application can be saved and submitted at a later time. All forms in the application must be completed in English.
To be considered for evaluation, applicants MUST:
Complete the online application (answer every question thoroughly in English);
Upload a copy of the international passport bio (first) page or government-issued ID (if the applicant does not have an international passport);
Upload two letters of recommendation with certified translations, if necessary. One letter of recommendation must be completed by the instructor, professor, or advisor from the student's university.
The second recommendation can be from another instructor, an employer, a coach, a former exchange program coordinator, or a community/volunteer activities supervisor. Each letter of recommendation must have the contact information (telephone, email address) of the person who provided it. Family members and friends may not provide letters of recommendation.
Upload complete and certified official undergraduate transcripts (starting from the first year of university study) with certified English translations.
First-year students are required to upload the atestat of complete secondary education and 'dodatok do atestatu', both documents with a certified translation. Grades must be printed on official school/ university stationery, signed by a dean or equivalent official, and certified with an official university seal or by a translation agency.
Upload official confirmation of the current academic year enrollment – dovidka (if not included in the transcript). This document does not need an official translation into English. 'Dovidka' can be uploaded to the 'Portfolio' section of the application.
Upload English language test score report (if taken previously). This document is not required;
All additional documents, including certificates of achievements, Olympiads, conferences, etc. are not required but can be uploaded under the 'Portfolio' part of the application.
The contents of academic transcripts and recommendations will be verified with the appropriate institutions and instructors.
IMPORTANT: Applications are expected to represent the applicant's original thoughts and individual work. Plagiarism, representing another author's language, thoughts, ideas, or expressions as your original work without proper acknowledgment, is unacceptable. Any instance of plagiarism in a student application or essay is grounds for immediate disqualification from consideration for the Global UGRAD Program.
Once the application is completed and ALL supporting documents are uploaded, hit "Submit" to officially apply. Once submitted, you cannot change the information on the forms.
Selection Process
Competition for the Global UGRAD Program is open and merit-based. The selection committee will review all eligible applications and invite semi-finalists for interviews.
Upon receipt, evaluation of applications, and interview reports, the U.S. Department of State's Bureau of Educational and Cultural Affairs in Washington, D.C, will make the final selection.
Global UGRAD Program finalists and alternate candidates will be required to take the Test of English as a Foreign Language (TOEFL).  A limited number of finalists will be eligible for intensive online English language training before beginning their academic programs in the U.S. All finalists and alternate candidates must also complete a medical exam and receive required immunizations before beginning of the Program.
Application Checklist
Please check that you have included all of the following (where applicable) with your application:
Complete the online application (all applicable questions must be answered);
Electronic signature on the application;
Required essays;
Two letters of recommendation;
Official translation of any recommendations not written in English originally;
Official academic transcripts with university/department seal;
Official verified translations of the official transcripts if not issued in English;
Official confirmation of the current academic year enrollment (dovidka). This document does not need official translation into English;
'Atestat' of complete secondary education and 'dodatok do atestatu' with certified English translation in place of the official academic transcript (for first-year students only);
Photocopy of the first page of your international passport or ID card.
Application Deadline
The 2024-2025 Global UGRAD student application opens on November 1, 2023, and closes at 6:00 p.m. Kyiv time on December 15, 2023, via a central application system managed by World Learning.
Late or incomplete applications will not be considered. It is a candidate's responsibility to request all transcripts and academic recommendations in sufficient time to receive them before the application deadline.
Contact email: [email protected] 
Telegram bot: https://t.me/UGRAD_Ukraine_bot